---
SciCulture Intensive Programme
Our first SciCulture intensive course was held in April, 2019 in Athens, Greece. The second intensive course was held in Bergen, Norway from the 11th to 15th November, 2019. The course provided an opportunity for diverse experts to work together on a project exploring: 'The Future of Education in the age of the Anthropocene, in 2050'. We had expert speakers from 5 countries: the UK, Norway, Netherlands, Greece and Malta.
The next SciCulture intensive course will be hosted online in April 2021 by our partners in the Netherands. The theme of this course will be 2050: The future wellbeing of cities in a world in crises. Our tutors are currently designing online resources which will allow for an engaging and collaborative experience in a remote setting.
On previous courses, participants have engaged in workshops, facilitated project time and mentorship with our experts, along with fun excursions and adventures! Working to a schedule similar to the one detailed below, although our online course will be different, participants will continue to develop transferable skills and create a long-term network to enable future collaborations using a design thinking process. The course will ultimately motivate our participants to address the big challenges faced in today's times.
With so much to do in just 5 days, rest assured, there's not a moment of boredom. Scroll down to see a detailed programme itinerary.
Please note: This itinerary is from previous courses which have happened physically. Due to the COVID-19 pandemic we are moving to an online platform, so the timetable will be altered accordingly, but this should give you a taste of the activities we do.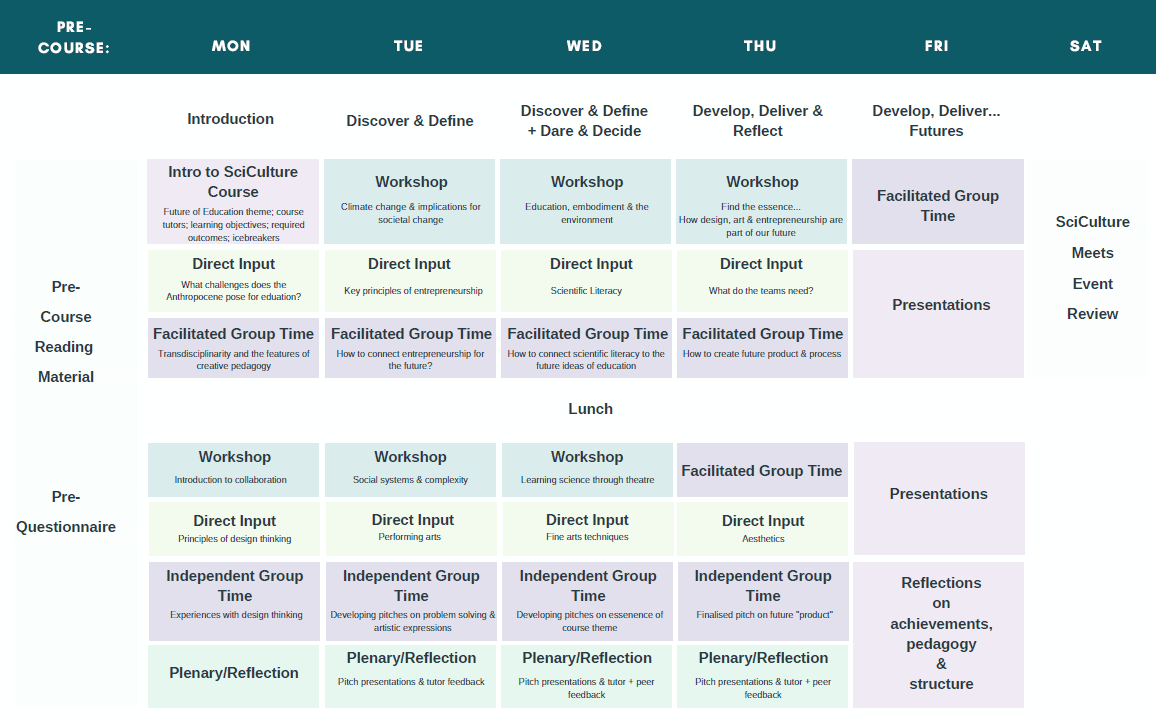 Workshops: will involve transdisciplinary pedagogy in which experts from the sciences, arts and entrepreneurship will co-lead all the sessions. Sessions will be related the future of education, in particular exploring learning in the age of the Anthropocene with a focus on climate change.
Independent group time: project time independent of SciCulture tutors focusing on what the group feels is necessary at that time to develop their project work.
Facilitated group time: project time facilitated by SciCulture tutors which may involve guidance on particular tasks and sharing work with other groups, geared towards developing project work.
Direct input: short sessions on skills attainment that are knowledge-based to provide targeted input from disciplines which can be used within developing project work.