"the Sciculture course brought together people from different cultural and educational backgrounds"
by Amoapong Sikadwa Badu Prempeh
I saw the advert for Sciculture on my university email and it really caught my attention. I was interested in participating in the course, especially the climate change aspect and the focus on the future of education.
My journey to take part in the Sciculture course was quite a long one. I applied for the course twice and was accepted on the second attempt. I had to go through a lot of ups and downs with my traveling arrangement, but my experience with the Sciculture course was worth every bit of hustle I went through to get there. The course was said to be an intensive course and true to their word, it was very intensive! There were a lot of concepts that were taught, many of which were very new to me. But I appreciate the fact that the coordinators always attached a practical aspect to our lectures, which gave me the opportunity to visualize and appreciate these concepts. I really enjoy the design thinking aspect of the course which enabled me and my group to gradually come up with our final idea.
I was introduced to so many techniques, such as creating your own animation to send out a particular message, expressing oneself through painting, especially using the airbrush, the use of embodiment language to solve conflicts, which was very essential in the decision-making process in my group especially.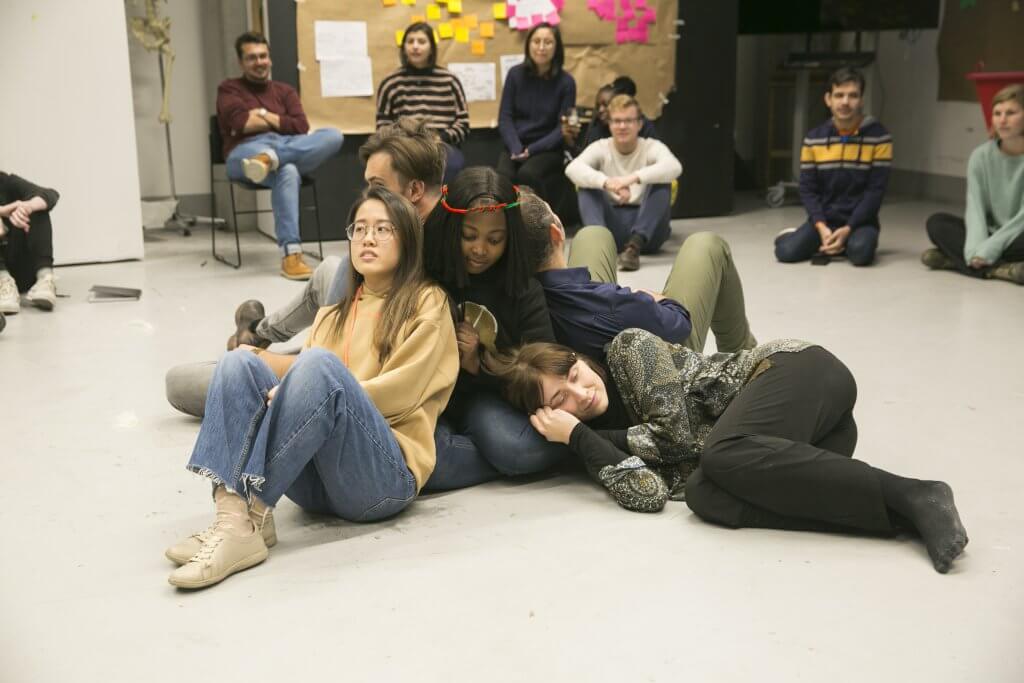 I really enjoyed the workshop where we were able to come up with our own choreography, which carried our message and our solution to the future of education in the era of Anthropocene. We were introduced to how we could use the theatrical arts to send a message that will touch the soul of people, while also communicating clearly on the future of education in the face of climate change, Anthropocene.
One thing I really enjoyed was the fact that the Sciculture course brought together people from different cultural and educational backgrounds (undergrad, postgrads), as well as a range of specialists, who trained us together, bridging every boundary that existed between each member of the group. Almost all of us were new to the concepts that were taught, so we had to come together as a group, build each other up and produce our final idea using the techniques we had learned. The training I obtained has made me a lot more confident and I believe that with the right information and the right people to guide you, you can be anything you set your heart to. I made great new friends, especially with our fellow Maltese participants. It was like we've known each other forever. I also made friends with students from other universities too.
As well as the educational aspect, the social side of the course was great. The food, the socializing, the parties were great. I believe the structure of Sciculture is a foretaste of what education in the future should be; bridging age, culture, and educational backgrounds.