Hundreds of thousands of people slowly shuffle along London's busy streets. Leading busy lives, making ends meet, grist to the mill. But below street level, there is a web of communities, just out of sight to the majority. Christian dance parties beneath charity shops, tiny Avant-Garde cinemas, art galleries, and the University of the Underground.
In the basement of an old nightclub, founded in 2017, The University of the Underground is a Non-profit charity providing a free, pluralist learning experience, and boasts an impressive array of experts on its staff and on the board of advisers, you will find few people who fit the academic stereotype here, no tweed insight. Instead musicians, artists, activists, scientists, free thinkers, all with a shared aim, to bring together political theory and philosophy, with creative practices, to develop alumni with open minds and the gumption to fight for what they believe for, to bring people together to question the status quo and the be part of the change they want to see in the world.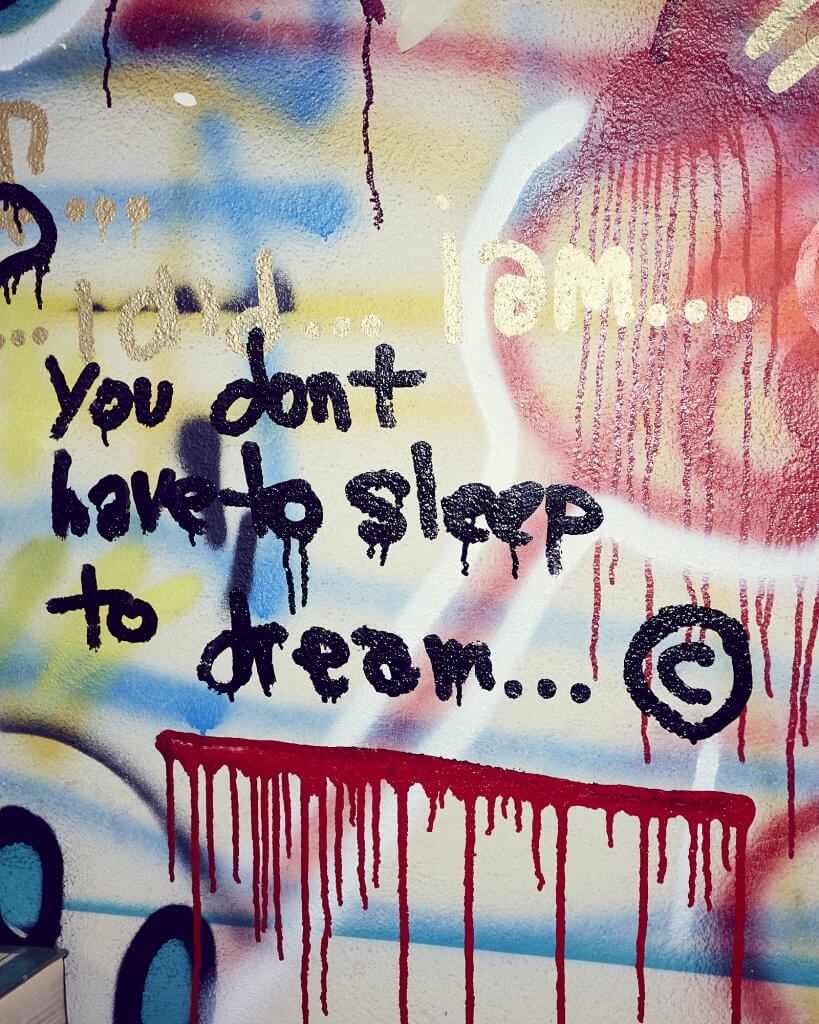 The University stands on three pillars;
Free Education- The fact that tuition fees have risen to unspeakable high cost could mean that eventually only a certain subset of people can get the most out of their education, the University of the Underground aims to provide an education for all.
Pluralist Education- The way that subjects are taught in mainstream institutions can lead to narrow minded experts who know a lot about very little. Adopting a transdisciplinary and unconventional approach will allow for more well-rounded alumni would are capable to reshape the current social norms.
Transnational Education- There is a lot to learn from other cultures and perhaps the way things have been done in the past could be approached in different ways. The University of the Underground does not believe in borders between education and wants to bring people together from all cultures so that they can all learn from each other.
The University Director, Dr. Nelly Ben Hayoun, has been dubbed "the Willy Wonka of Design and Science". She is an award-winning film director and designer of experiences, definitely an "outside of the box" thinker. Reading through her previous projects at Nelly Ben Hayoun Studios, there is certainly a sense of whimsy in her work, from shooting off music into space to help in the search for intelligent extraterrestrial life to housing "semi-domesticated volcanoes" in people's living rooms, but nothing as ambitious as the University of the Underground, for this Dr. Ben Hayoun, needed a dedicated team, people to create a curriculum, to deal with student administration, it takes a village.
A key member of this team Chloé McClellan, a contemporary artist and Head of Operations at the University of the Underground, speaks to us about how the University was established and the challenges the institute now faces.
How did you get involved with the University of the Underground? Why?
We live in a complicated world in the last few years we have seen the rise of the far-right, of Trump, le Pen, and Boris, in 2017, having worked with Nelly in her studio for a number of years, we recognised that Design alone as a discipline did not render visible what we were passionate about, revealing power structures and supporting the performance of politics and power shifts in institutions. Not only this we felt it essential to see another form of education, one in which you learn how to navigate systems and how to best disturb them from the inside. Where design supports the modeling and physical existence of your dreams; I believe, like Nelly and many others, that it is most urgent to equip young designers, artists, nightlife workers, etc with the learning that allows them to use their knowledge of the material world to help them navigate governmental systems, institutions, and power structures. Nelly is a force of nature and once she developed the idea, there was no stopping her, and I feel incredibly proud to be working with her on the University of the Underground, ultimately because I believe in free education and often the dismantling of the various systems of oppression we as a world have established.
How has your background helped you during your time at the UoU?
I am a painter and sculptor, with an organised mind – and I think that being able to adjust quickly, think creatively – and a determination to solve problems and work amongst chaos has greatly helped. My background has obviously had a huge impact on my desire to work for free education and I want to support new experimental practices and diversity in leadership and ultimately for students to learn freely without the huge loans that I myself was encumbered with on leaving my education.
How is the university-funded and why is it important for this to be a free institution?
Individuals, philanthropists, and private sectors are invited to donate to our charity. People can donate here. And while we are actively fundraising in the private and individual sectors, we are also fundraising in the public sector through governmental grants. I mean it's important for it to be tuition-free for all the reasons above, being tuition-free allows us to support new experimental practices, supports diversity in leadership – and in doing so aims to develop a network of creative agents who are able to drive changes from within and support plurality of thinking. Ultimately we want to separate education from national politics and we aim to encourage a network of tuition-free universities around the globe, who can support one another independently, and who can imagine together new political and economical models, avoiding governmental and lobbying pressure in the development of our educative journey.
Could you let us more about the "100 years of education" initiative?
As a charity, the University of the Underground is pioneering the '100 years of education' programme in which individuals from both the private and public sectors are invited to commit long term – for 100 years – to a better redistribution of wealth. Through the 100 years of education programme, we aim to create an alliance of practices for a more sustainable, diverse leadership which actively supports social dreaming and critical thinking. The University of the Underground is founded on a commitment to the future. Our "100 Years of Education Campaign" is also a pledge that our courses will run for 100 years to demonstrate our dedication to achieving long-term change.
How important do you think transdisciplinary and transnational thinking is to cope with the "wicked problems" the world faces today?
Ultimately for me, I believe this is the only way to cope, and for the University of the Underground these are our essential foundations, we believe in education beyond nation-states and separate from national politics, and the way I see it is that positive inspiration and disturbance to the current cultural and educative system is required to best support the young generations in their creative and political endeavors. And in terms of Transdisciplinary education, we teach a multi-disciplinary approach and experiment with experiential practices (ie: music, design, film, theatre) to reshape and challenge leadership in institutions and to inspire social dreaming. I imagine a world in which there are collective poetics and social dreaming at play within power structures – society would be all the better for it!
What are the main challenges the university faces?
I mean the coronavirus and beyond is a huge unknown – and the emotional, financial and human impact is almost too much to bear – but at the UU we elected to do what we could and announced a free online programme 'from the underground to the cloud'. Initially intended for a research bureau between Georgia and Holland titled 'If I Can't Dance I Don't Want To Be Part Of Your Revolution', our repurposed programme now brings together multidisciplinary practitioners investigating disciplines such as dance and other experiential mediums and their potential in building organised communities and reinventing politics within institutions and beyond. Some classes will be donated by the board of the University of the Underground charity (Rose McGowan, Jeremy Deller, Magid Magid, Ishmael Butler, Paola Antonelli, Tea Uglow, Damian Bradfield and more) Others will be given by selected freelance creatives, practitioners, alumni of the University, and others whose practice has been impacted by the coronavirus outbreak, who we will pay to deliver classes.
Stepping out of the fringe? Would you eventually want to be seen in a similar light to mainstream institutes or are there some advantages of being in the fringes? What are the disadvantages?
We currently offer an alternative to traditional and mainstream universities, although over the last few years we have seen many of the ideas adopted by these mainstream universities – which I can only view as a success. However, as I said earlier our aim is to encourage a network of tuition-free universities around the globe, who that can support one another independently, and who can imagine together new political and economical models, avoiding governmental and lobbying pressure in the development of our students' educative journey, that for us – would be a real success.
You have started a High School of the Underground initiative, what are the ultimate aims of this project? What are the advantages of instilling a transdisciplinary/ pluralist mindset early?
The High School of the underground is a project-based program is designed specifically to provide a safe space for young creatives to learn, grow, and push the boundaries of their creativity while actively engaging in communities. Much like the University of the underground, the High School of the Underground aims to maintain, support, and cultivate countercultures and communities that will empower youth to reactive their interaction with institutions under the mentorship of professional and highly skilled creative and nightlife artists and institutions from around the world.
I think it's best said by Alex Cromer the High School of the Underground Project Manager "The hope of this project is to empower youth by giving them creative tools to navigate increasingly tense, social, political, and ecological environments. If there was any time to provide those tools, it is definitely now!"
How important is it for you to have a creative outlet?
Absolutely essential – for me, through material engagement I am able to make sense of the world and hopefully offer an alternative. I hate the thought that there all are these developments, ideas and techniques that have happened or are happening that remain hidden from us and using my creative practice I aim to uncover some of those things and make them obvious to the public – and in a way that's exactly what we do at the University of the Underground too, opening up the power structures at play – and delivering them to the students with the aim of making change.
---
Thank you Chloé for your time and if you want to learn more about the University of the Underground, visit http://universityoftheunderground.org/